Shopify Review — Key Pros and Cons, Pricing and Features
In this Shopify review, I look at one of the most popular online store builders available and provide a complete overview of its key pros and cons. Is it right for your business, or should you use another e-commerce solution?
Our overall rating: 4.3/5
There is an increasingly large number of online store building tools now available, and choosing the right one for your business can feel really difficult.
You're probably here because you've heard a lot about one of the leading e-commerce solutions, Shopify — but you're not sure if it's the right option for you.
Well, this Shopify review is here to to help make that decision easier. Below I'm going to explore the platform's pricing, templates and selling features — and give you the lowdown on all of them.
So, read on to get:
an overview of what Shopify is, and how it works
an evaluation of its templates and key features
the key reasons you might want to use Shopify — or avoid it
a good idea of the best plan for you
a list of strong alternatives.
Let's dive in!
---
What is Shopify?
Shopify is a web application that allows you to create your own online store.
It provides you with a wide range of 'themes' that can be customized to meet your own branding requirements, and allows you to sell either physical or digital products.
A key aim behind Shopify is to let people without coding or design skills build an online store themselves (i.e., without the assistance of a developer).
However, people who are familiar with HTML and CSS will be pleased to discover that the platform provides access to both.
---
How does Shopify work?
Shopify is a 'hosted' solution. This means that it runs on its own servers and you don't have to buy web hosting or install software anywhere.
You don't own a copy of the product, but instead pay a monthly fee to use it — and, so long as you have access to a web browser and the internet, you can manage your store from anywhere.
With Shopify, the key things you need to build and market an online store — like templates, a payment processor, a blog and even email marketing tools — are provided 'out of the box.'
That said, you can customize your store to meet more individual requirements through the addition of apps — more on that later — or using custom code.
---
Shopify review — video version
In a hurry? You can watch the video version of our Shopify review below.
Free Shopify trial
The number of Shopify users — and why this matters
Shopify was founded in Canada in 2004 by German-born entrepreneur Tobias Lütke, who realised that an e-commerce solution he coded to sell snowboards could actually be used by (and sold to) other businesses.
Fast forward to 2021, and the company currently powers over 1.5 million online stores (source: Builtwith) and has over 5000 staff. According to Shopify, businesses using the platform have generated over $200bn in sales.
These numbers matter because when you choose a hosted solution to build an online store with, you are placing a huge amount of trust in the company providing it.
There have been instances in the past of similar services closing down, resulting in serious problems for their users, who had to migrate their stores over to a different platform at very short notice.
However, Shopify's large user base and market share makes the prospect of a store you host with them suddenly disappearing less likely.
Now: how much does Shopify cost to use?
---
Shopify pricing
There are five Shopify plans available, with the following monthly costs:
Shopify Lite — $9
Basic Shopify — $29
Shopify — $79
Advanced Shopify — $299
Shopify Plus — custom pricing.
A couple of quick things to note here:
If you pay upfront you can avail of a discount — 10% if you pay for one year, or 20% if you pay for two.

Additional fees apply to make the most out of Shopify's point-of-sale features (which let you sell goods in a physical location). I'll discuss these in more depth later on in the review.
There is also a free trial available, which lasts for 14 days (and can usually be extended if you need more time to complete a store).
You can access this free trial here.
Shopify Lite: a cheap way into online selling?
Shopify represents one of the cheaper ways into selling online, with its starter plan, 'Lite' costing $9 per month and allowing you to sell an unlimited number of goods.
However, it's important to note that the 'Lite' plan does not actually allow you to construct a fully-functional, standalone online store.
Instead, it:
lets you sell products on your Facebook page

allows you to use your store to sell goods or manage inventory in a physical location

gives you access to Shopify's Buy Button, which allows you to sell goods on an another website or blog.
The Buy Button works similar to a Paypal 'Buy Now' button, but because it links directly back to your store, more sophisticated options regarding tracking orders and syncing inventory are available.
Additionally, you can use a Buy Button to display entire categories of products on another platform (for example a Squarespace or WordPress website).
If you want to create a standalone online store, though, you'll need to go for one of the other plans. Let's take a look at these now.
Key differences between Shopify plans
All the $29+ Shopify plans provide core e-commerce functionality — you can choose a template, upload a catalogue of products, accept credit card payments, sell gift cards and access a wide range of third-party apps.
But there are a few key features to watch out for, and not miss by selecting the wrong Shopify pricing plan.
These are:
Staff accounts — the number you get varies by plan.

Reporting — professional reporting functionality is only available on the $79+ plans.

Third party real time carrier shipping — this is only available on the most expensive 'Advanced Shopify' plan (other plans do let you avail of real-time carrier shipping, but only with Shopify's preferred providers).

Inventory locations — you can assign inventory to retail stores, warehouses, pop-ups etc. on any plan, but the number of locations you can use varies with each.

Transaction / credit card fees — these get lower as you go up the pricing ladder.

Shipping discounts — the more expensive the plan, the more generous these are (depending on territory).

Exchange rates — you can set your own exchange rates on the 'Shopify' or 'Advanced Shopify' plans.
Shopify Plus, the enterprise-grade version of the platform provides additional functionality aimed at big corporations, including:
guaranteed server uptime

API support

'White glove' level of support via a dedicated 'Merchant Success Manager'

dedicated SSL / IP address

advanced security features

extensive options for selling in multiple currencies

sales automation tools.
I'll explore all these features shortly, but first, let's take a look at how Shopify lets you accept payments for your goods.
---
Accepting credit cards using Shopify
There are two ways to accept credit card payments on Shopify.
The most straightforward, for users in countries where it is supported, is to use Shopify Payments, Shopify's built-in payment system. If you use this, you don't have to worry about transaction fees at all.
However, there is still a 'credit card rate' to consider — in the US, depending on your plan, you can expect to pay a rate of between 2.4% and 2.9% of each transaction.
(In other countries, the rate can be considerably lower).
Alternatively, you can use a third party 'payment gateway' to process card transactions — of which there are over 100 to choose from. If you do this, Shopify will apply a transaction fee as well — between 0.5% and 2% depending on the plan you're on.
One important thing worth noting about Shopify Payments is that it is available only for users based in certain countries.
These are:
Australia

Austria

Belgium

Canada

Denmark

Germany

Hong Kong SAR China

Ireland

Italy

Japan

The Netherlands

New Zealand

Singapore

Spain

Sweden

United Kingdom

United States of America (note: no US territories except Puerto Rico.)
So if you're not selling from one of those countries then you will have to use a separate payment gateway provider.
Now that we've gone through pricing and payment functionality, let's discuss how Shopify stores actually look.
---
Shopify themes – how good are they?
Shopify provides 9 free e-commerce templates (or 'themes') that you can use – and each of these comes in two or three different variants, giving you a reasonable number of template options to choose from.
That said, the number of bundled templates on offer is small by comparison to other online store builders like Squarespace and Wix.
The bundled themes are attractive however, and they are responsive too, meaning they will display nicely across all devices.
If the free templates don't appeal, you can use a paid-for or 'premium' theme — of which there are 64 (and again, each theme comes in a few variants). These range in price from $100 to $180, and as with the free themes, they are all fully responsive.
In the theme store, you can browse all the free and paid templates using a wide range of filters — for example, you can view templates by
industry

home page type

layout style

visual features (slideshows, video, parallax scrolling etc.)
and more.
This means that you should be able to find a suitable theme for your store without too much difficulty.
In terms of the aesthetics, the templates are all professional in appearance, easy on the eye, and very contemporary in nature — no complaints at all here.
Support for themes
One thing worth considering when deciding on a theme is whether or not it is officially supported by Shopify.
All the free themes are — but if you use a premium template, you may need to contact the developer who designed it for any help you might need when installing or customizing it.
All in all, Shopify's template offering is of a high quality — but if you are not content with the options provided and wish to create something that is truly distinctive, there is always the option of building your own theme.
It's easy to access the theme code, and a lot of support materials are provided to help you develop your own template.
Once you've picked a Shopify plan and chosen your template, you can start selling with the platform.
So let's look at how easy it is to do that with Shopify, and explore its key e-commerce features in more depth.
Trying Shopify out for free
Reading Shopify reviews is helpful, but the best way to decide whether Shopify is the right platform for you is to try it out yourself.
And the good news is that you can do so for free — the company provides a 14-day free trial, with extensions available upon request.
You can access the free trial using this link.
---
Interface and ease-of-use
Shopify is straightforward to use – it's got a clean, modern and intuitive interface.
In common with other contemporary content management systems, a menu on the left allows you to access features or content, which you then customize or edit on the right.
The interface lets you set up and manage a variety of 'sales channels'. These include:
An online store: this is your main website.

Facebook: a tab on your Facebook page where users can browse and buy your products.

Messenger: you can sell directly to customers in Messenger conversations with them (as well as provide order and shipping notifications, and respond to customer enquiries).

Buy Button: this channel allows you to embed e-commerce functionality — via 'buy buttons' — on any website or blog.

Amazon: this allows you to manage your Amazon listings and Shopify products in one location.

Instagram: this allows you to make your Instagram posts 'shoppable.'
The above list covers the sales channels that you can use 'out of the box.' Several others — including big-hitters like Ebay — are available as third-party apps.
All in all, it's pretty straightforward to use these sales channels — and the interface in general — but there's a couple of issues worth zooming in on, to do with content layout and images.
Content layout — no drag and drop?
Although by no means hard to use, the Shopify interface is a little bit old-fashioned, in that it doesn't let you use a 'drag and drop' approach when editing pages.
You are dealing with a rather traditional WYSIWYG (What You See is What You Get) editor which, while working perfectly well, doesn't give you the kind of flexibility that other website builders now give you when it comes to laying content out around a page.
WordPress, Squarespace and BigCommerce all feature content drag-and-drop functionality — it'd be nice to see Shopify introduce this soon as it can lead to better-looking (static) page layouts.
It's important to note that despite the lack of drag-and-drop in Shopify, it does provide other tools to help you customize the layout of key pages.
This is especially the case when it comes to the home page of your site — it's very easy to tweak the layout using the built in theme editor.
And there are apps available — such as Buildify — which do add drag and drop functionality (but they can increase your monthly costs quite a bit).
Product images
If you upload images to Shopify with different aspect ratios, they won't be cropped automatically to a uniform ratio. In other words, your product catalogues will consist of a series of differently-shaped images. This can impact negatively on your store design.
You can get around this by using a photo-editing program to ensure consistent image aspect ratios for all your products — but unless you do this before you start uploading your images, you may find yourself with a headache, particularly if your store contains a large number of products.
You could also add a bit of code to your template to force images to display in a certain ratio — but this won't be ideal for those without technical skills.
These issues with drag and drop and product images aside, the interface is clean, user-friendly and shouldn't present much of a learning curve to most users.
---
Shopify Point of Sale (POS)
One particularly strong feature offered by Shopify which deserves a special mention, and makes it stand out from its competitors, is its comprehensive Point of Sale (POS) functionality and hardware.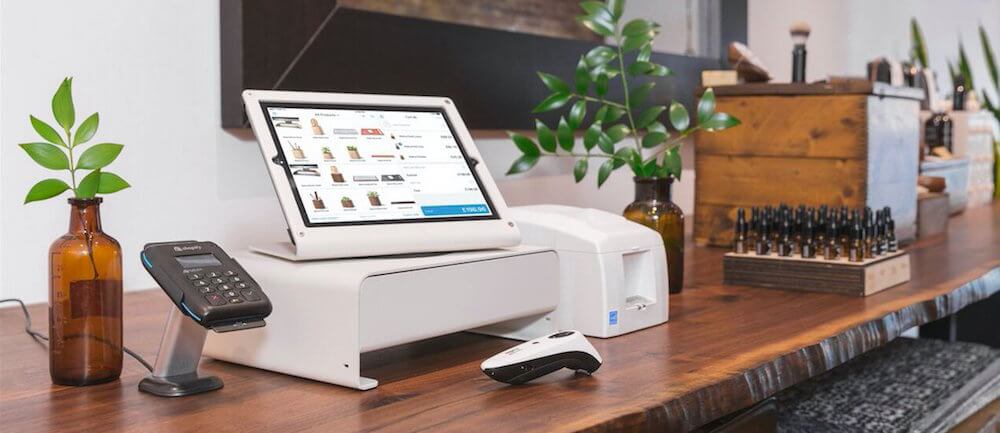 The POS hardware lets you use the platform to sell not just online but in physical locations too, using your iOS or Android device.
A wide range of hardware is available to purchase — barcode readers, tills, receipt printers etc. — to help you do this. If you live in the US, Canada, the UK or Ireland, you can buy these items online directly from Shopify; if not, you will need to find an authorized reseller.
There are a several applications for these point-of-sale tools. For example, they allow you to sell…
In a pop-up shop

From a market stall

At an event

In a retail outlet.
And all whilst keeping your inventory and stock count automatically synced.
It's important to note however that you need to pay for a 'Shopify POS Pro' add-on get the most out of point of sale. The cost for this is quite high: $89 per month.
Although the built-in POS features ('POS Lite') cover the basics, and will be fine for merchants with simple needs, you will need the add-on if you want to:
work with an unlimited number of sales staff

facilitate 'buy online, collect in store'

facilitate exchanges

provide custom printed receipts

define staff roles and permissions

attribute sales to particular staff members (for commission or performance-analysis purposes).
The below video provides a demonstration of the Shopify POS system.
---
Importing and exporting
Importing products and data
As with similar store builders, Shopify allows you to import product data from a CSV file.
This is useful if you want to bulk upload a lot of new products to your store, or are migrating data from another e-commerce platform.
As for text-based data, If you want to import posts from a blogging platform such as Bloggr, Tumblr or WordPress, your options are to:
copy and paste content

use a the Shopify API

invest in a third-party app (such as the 'Blogfeeder' app).
Exporting products and data
You can export product data to CSV file easily with Shopify.
When it comes to pages and posts, however, this isn't doable out of the box. If you have the relevant technical skills, however, you can make use of Shopify's API to get them out of the platform.
Alternatively, you can use a third-party app to export your content (for example Exlm, which gives you a wide range of options for getting your content out of the platform).
And speaking of options…
Need help with a Shopify project?
If you need help with building or customizing a Shopify site, do get in touch!
Depending on the project we can either assist you ourselves, or recommend a specialist that can help you get it off the ground quickly and in a professional, cost-effective way.
---
Working with product variants and options in Shopify
Shopify allows you to create up to 100 different variants of a single product. However, out of the box, these variants can only involve 3 product options.
So, for example, if you were selling shoes, you could allow users choose from up to 100 different variants of a particular shoe, each in 3 different options (for example colour, size and style) — but you couldn't allow them to pick a shoelace colour on top of this.
Thankfully a workaround exists involving third-party apps — there are quite a few available that lift these limits, but you will need to be prepared to pay for them.
Another option is to add 'line item property' code to your store to capture more product options, but you'll need to be comfortable with editing code in order to do so.
The bottom line is that if you are selling something that doesn't involve a large number of variants and product options you will be fine with Shopify — and if your needs are more extensive, apps do exist that get rid of the limits discussed above.
That said, it would be better if a more flexible approach to options functionality was available out of the box (as is the case with rivals BigCommerce and Squarespace).
---
Using Shopify product categories and collections
Although there's room for improvement regarding how Shopify handles product variants and options, the way it handles product categories is superb.
You can manually add products to a collection or — and this is a huge time saver for users with large product ranges — use 'automated collections.' This basically means setting up rules (based on product titles, tags etc.) which automatically categorize your products so that they end up in the correct collection.
This can saveyou hours, if not days, of data entry and manipulation, particularly if you have a large number of products in your online store.
You'll need to make sure you name or tag your products in an extremely consistent way to take advantage of this functionality however, as the automation only works if you have a consistent naming convention to product titles, tags etc.
But used in the right way, it's great.
Access all our e-commerce resources for free
Get all our resources on e-commerce and how to run a successful online business in your inbox, plus other news and offers from us. Subscribe for free below.
View privacy notice.
---
Shipping products
Shopify is flexible when it comes to shipping, allowing you to set:
Free shipping rates

Flat rates

Price-based rates

Weight-based rates

Calculated ('real time') shipping rates
It's straightforward enough to set up shipping rules based on price or weight, and you can create 'zones' to cover groups of countries really easily.
When it comes to real-time shipping rates — where carriers provide live estimates at checkout, based on distance, weight and the number of boxes needed to ship items — you have two options (depending on your location).
In the United States, Canada and Australia, Shopify has teamed up with a selection of local postal companies to provide real-time shipping quotations, along with preferential rates on shipping. If you live in one of these countries, you'll probably find this service — "Shopify Shipping" — very useful.
It's available on all plans, and the discounts provided can be quite generous, particularly if you're on the $299 'Shopify Advanced' plan.
The below video highlights how Shopify Shipping works.
The other option — and the only one for users not based in the US, Australia or Canada — is to use third-party calculated shipping rates.
However, you can only do so on the most expensive plans (the $299 'Advanced Shopify' plan or higher).
This contrasts negatively with some competitors, notably BigCommerce, which makes this feature available on all its plans (including its $29.95 entry level plan).
COVID-19 shipping features
Shopify has recently introduced some shipping features to help users continue selling during the coronavirus pandemic.
Merchants can now offer a 'local pickup' option, which allows customers to skip shipping rates and pick their orders up from a store, curbside or other location.
---
Accepting multiple currencies in Shopify
Displaying prices and facilitating checkout in local currencies can improve sales rates considerably.
And, unlike several other well-known e-commerce solutions, Shopify lets you do this — so long as you are using its built-in payment gateway, Shopify Payments.
Although it's great to have this feature available, it could be a bit better, however.
First, unless you're on a Shopify Plus plan, or using a third-party app, your users will have to use a currency selector to manually choose their preferred currency.
(A free 'geolocation' app can be installed to detect a user's location and display a currency recommendation, but in my view this is not as good as fully automatic currency conversion.)
Second, a currency selector is only currently available in two themes (Debut and Brooklyn). If you don't use one of these, you'll need to insert code into your store to create one.
Third, multi-currency payment doesn't work with Shopify 'Buy Buttons.'
Finally, to make the most of this feature, you'll need to be on a 'Shopify' plan or higher — these let you set currency exchange rates manually (this lets you tailor your pricing to suit each of your markets).
Given the above limitations, I suspect that many merchants will find themselves reaching for a third-party app to handle multi-currency payments — based on my research, Bold Multi-Currency is probably your best bet here.
The lowdown on multi-currency selling is that Shopify is a reasonably good option for merchants wishing to do this, but there are improvements that could be made to the functionality.
BigCommerce, for example, makes it much easier to sell in multiple currencies out of the box, without the need for currency selectors, and its Buy Buttons facilitate multi-currency payments too.
Building a multi-lingual website with Shopify
In addition to facilitating transactions in multiple currencies, Shopify lets you sell in multiple languages too.
To translate your store you'll need to be on the 'Shopify' plan or higher. This lets you translate your store into 2 languages; moving up to the 'Advanced Shopify' plan lets you do so with 5; and 'Shopify Plus' lets you translate using up to 20 languages.
When you enable multi-language selling, a language 'folder' is added to your domain. So you'll end up with www.myshop.com/fr, www.myshop.com/de etc.
If you prefer, you can also use an international domain (.fr, .de etc.) to host a foreign language versions of your store.
---
Abandoned cart recovery
Abandoned cart recovery helps you identify users who went part of the way through a purchase only to change their mind about it, and contact them with an encouragement to complete their purchase (usually a discount code).
The good news is that this is included on all Shopify plans, meaning that you get this key piece of functionality at a considerably lower price point than its key competitors.
Whereas with Shopify you can get the functionality from just $9, BigCommerce and Squarespace only offer it on their $79.95 and $46 per month plans respectively.
The makers of competing product BigCommerce claim that using abandoned cart recovery tools can boost your revenue by up to 15%, which — if true — is obviously very significant.
In terms of how abandoned cart recovery works in Shopify, it allows you to either:
view a list of people who've abandoned their carts and manually send them an email

automatically send one email to visitors to your site who abandoned their carts (containing a link to their abandoned cart on your store).
The latter option is usually the best way to go about abandoned cart recovery, as it saves time.
As you can see from the screenshot above, Shopify recommends that you send your abandoned cart email 10 hours after your site visitor abandons their cart.
This is because according to research carried out by the company, this is the time interval that generates the most sale completions.
Need help with a Shopify project?
If you need help with building or customizing a Shopify site, do get in touch!
Depending on the project we can either assist you ourselves, or recommend a specialist that can help you get it off the ground quickly and in a professional, cost-effective way.
Contact us today about your Shopify project.
---
Custom fields and file uploads
Some merchants will require their customers to provide some text at the point of purchase (for example, jewellers might require inscription copy; some merchants might like to give customers the option to add a dedication to a product etc.).
Shopify will allow you to capture this data, but it's a fiddly process: you need to create a 'line item property' by manually adding some HTML code to your template. The other alternative is to pay for an app to do this job, which isn't ideal.
It's a similar story with file uploads: if you need to offer your customers the option to upload a file (for example, an image to be used on a t-shirt or mug), you're going to have to get coding or, yes, you guessed it, pay for a relevant app.
I would much prefer — again, as is the case with BigCommerce — if text fields and file upload buttons were simply options that could simply be selected / enabled when creating products.
---
SEO in Shopify
Is Shopify good when it comes to SEO? The short answer is yes — its SEO feature set is generally strong and compares favourably with other hosted site-building platforms.
The nuts and bolts of on-page SEO are certainly very easy to manage — changing page titles and meta descriptions is very easy, as is adding headings and alt text.
Adding 301 redirects — which let search engines know when a page location has changed — is also very straightforward.
In fact, the platform automatically prompts you to do this — and creates the redirect for you too — if you change a page's URL. This is a particularly useful feature.
Shopify's themes are all responsive, meaning they'll display nicely across all device types, and a CDN is used to speed up content delivery — both of these approaches to web design can lead to preferential placement in search results.
With regard to the latter, a new 'site speed' report lets you compare how fast your Shopify store is compared to similar ones — you can use this data to try to speed it up (usually by reducing image size or removing unnecessary scripts or apps).
You can also — with the help of an app — display all your products and pages in AMP format (a faster, stripped-down version of your content) which can bring some benefits in mobile search results.
There are a couple of areas however where the SEO features could be slightly better in Shopify: although you can customise your URLs, the platform adds prefixes to your pages and products, i.e.,
/pages/ before pages

/posts/ before posts

/products/ before products
In an ideal world, it would be good not to have these prefixes there, as Google's search algorithms prefer a simpler URL structure.
The other thing that it should be easier to do is change image file names — if you want to change a file name for SEO purposes, you'll have to rename it locally and then re-upload it.
But all in all, the SEO features of Shopify are strong — I don't have any major complaints.
Remember: it's not just about built-in SEO functionality…
It's important to remember is that built-in SEO functionality is only one part of the picture when it comes to making your Shopify store rank in search results.
As with any website or online store solution, you'll still need to do a lot of work in the areas of keyword research and backlink building.
For more detailed information about how to optimise a Shopify store for search engines, you can check out our Shopify SEO guide.
For more resources on keyword research tools, check out our Semrush review, our Semrush pricing guide, our Ahrefs versus Semrush comparison and our Moz versus Semrush comparison.
---
The Shopify app store
In addition to Shopify's core functionality, there is also an app store which store owners can visit to obtain apps — both free and paid — that add new features.
There is a huge number of apps available (over 4,000) — more than any other e-commerce platform that I've come across. These apps either add specific functionality to your store or make it talk to another tool (like Xero or Zendesk).
This wide range of apps is one of the strongest arguments for using Shopify over its rivals — but also possibly an argument against.
On the plus side, it means that you have a fantastic range of options not only when it comes to adding functionality to your store but when it comes to integrating it with other tools and platforms too.
On the negative side, it means that there are a lot of situations where getting the functionality you need (for example AMP, more product options, custom fields or a drag and drop page builder) invariably requires installing a paid-for app.
Competing platforms like Wix and Squarespace, by contrast, tend to include more functionality like this out of the box — meaning you don't end up paying as much on apps.
Examples of Shopify apps available include:
data capture apps

accounting apps

abandoned cart saver apps

multi-currency selling apps

advanced reporting apps.
Key third party apps that are supported via integrations include Xero, Freshbooks, Zendesk and Campaign Monitor.
It's worth dwelling a moment on an app for which an official integration which doesn't exist: Mailchimp. Unfortunately, due to a dispute about data protection and privacy issues, the this has been withdrawn from the app store.
You can still use Mailchimp with Shopify, but you'll have to use more manual workarounds to do so; alternatively, you could consider using a different email marketing solution, such as Getresponse, Aweber or Campaign Monitor to handle e-comms.
However, with the introduction of a new email marketing feature, you might not actually need to integrate an e-comms tool with Shopify.
Let's take a quick look at that…
---
Email marketing in Shopify
An absolutely vital part of running an online store is email marketing: sending e-newsletters to your mailing list is key to generating sales.
Recognizing this (and perhaps the fact that competitors Squarespace and Wix both offer built-in email marketing), Shopify recently introduced a new feature, 'Shopify Email,' which allows you to create e-newsletters and carry out email marketing 'in the box'.
As things stand, this is a very basic email marketing tool, which simply allows you to send branded e-newsletters — in other words, don't expect Mailchimp or Getresponse style automation features just yet.
But the feature will definitely prove useful to some merchants, particularly those who like to manage all aspects of their online business in one place.
And it's very cheap: you can use the feature to send up to 2,500 emails per month for free, with a $1 fee applying to every additional 1,000 emails after that.
---
Dropshipping with Shopify
Many potential users of Shopify will be wondering how it facilitates dropshipping.
With dropshipping, you take an order, send it to a supplier, and they deliver the goods to your client — you don't make or store any products, and your e-commerce site is in effect a middle man of sorts.
The good news is that Shopify offers a very large range of dropshipping apps which allow you to source and sell a variety of suppliers' goods online very easily.
One thing I'd definitely like to see from the company however is more information on the quality of dropshipping suppliers — maybe an 'ethical rating' or similar.
This is because a lot of dropshipped goods are produced in the Far East — where working conditions can be very poor. As things stand it's hard to be confident that the goods you sell via Shopify's dropshipping apps are ethically produced.
It's fair to say that Shopify is probably the market leader for dropshipping applications, but if you are concerned about the ethical dimension, you will need to do a bit of your own research before committing to a particular app or supplier.
---
Tax rules and VAT MOSS in Shopify
Automatic tax calculations
One of the challenges of selling online is that you can end up making sales in a variety of jurisdictions with differing tax rates — something you have to reflect in the pricing of your products.
This is particularly relevant for merchants based in the US, Canada and the EU where different states and provinces (respectively) apply differing tax rules.
Thankfully, Shopify allows you to apply tax rates automatically for these territories, which is a huge time saver.
VAT MOSS
A really strong aspect of the platform — which is not often picked up on in other Shopify reviews — is the way that it caters extremely well for the EU's VAT MOSS rules (or, to use its full title, 'VAT Mini One Stop Shop.').
VAT MOSS is basically a requirement that sellers of digital products to consumers in the EU add value added tax (VAT) to each digital product on a per-country basis — i.e., there's one VAT rate to be applied for the UK, one for Ireland and so on.
Unlike a lot of competing products, Shopify calculates the appropriate rate automatically. So there's no messing about with setting up manual tax rules and so on. This is an extremely useful piece of functionality and for me, it's a USP.
And speaking of digital products…
---
Selling digital goods
If you want to sell digital goods with Shopify, this is perfectly doable — but not immediately obvious how to set up.
A good friend of mine, Diarmaid MacMathuna from Cruinneog — a company that sells an Irish spellcheck tool for Microsoft Word — recently built his new store with Shopify but initially struggled quite a bit to work out how to sell his software online. This was until he realised that in order to sell files, users need to install a separate app (the 'Digital Downloads App').
The good news is that this is free — and very easy to use. You can configure it to work automatically, so that a download link is given to the customer immediately after checkout, and a link is emailed to them when their order is fulfilled.
There is a limit on the product file size, but it's a generous one: you can sell digital goods up to 5 GB in size. This limit compares very favourably to other platforms — Squarespace for example limits downloadable product size to 300 MB; BigCommerce to 512 MB.
If that's not enough, you can use third party apps which host your files, or use file sharing services like Dropbox to deliver them.
---
Reporting
Shopify provides a comprehensive range of reports, including:
sales reports

customer reports

marketing reports

search data reports

finance reports

abandoned cart reports.
There is a negative worth pointing out here however: the most useful reports are only available if you are on one of the more expensive plans — the $79+ 'Shopify' plan or higher.
If you're not on one of these plans, you just get a fairly basic dashboard containing topline stats only. Whilst the dashboard will let you keep track of basic sales data, it's not as good as having a dedicated report.
(This contrasts negatively with key competing product BigCommerce, which provides professional reporting functionality on all its plans.)
But if you do shell out for the reporting functionality, you'll find it's very good.
An advanced report builder is also available, which allows you to create your own custom reports — but again, it comes at a high price: you'll need to be on a $299+ plan to avail of this.
---
Blogging in Shopify
Blogging is one of the key ways to increase traffic to your site — so it's vital for anyone running an online store.
Helpfully Shopify comes with a built-in blogging tool which allows you to create the sort of content you'll need to ensure your site is visible in search results.
However, this blogging functionality is not by any means as sophisticated as what you'd find on some platforms — especially WordPress.
Omissions include content versioning and Yoast-style SEO plug ins; and when it comes to categorisation of posts, Shopify blog posts only allow you to use tags — there's no categories available (professional blogging platforms typically permit use of both).
That said, the built-in blogging functionality is generally fine and will meet most merchants' requirements perfectly well. You can also — with a little bit of configuration — hook it up to the commenting tool Disqus, which is useful.
As with quite a few Shopify features, if you're not happy with the blogging setup you can always turn to an app for help. One option worth investigating on this front is DropInBlog, which allows you to make use of more WordPress-style features (for example SEO post analysis, product embeds, categories and multiple contributors).
---
Managing your Shopify store on a mobile device
Shopify provides two main apps which you can use to manage your store on a mobile device: 'Shopify' and 'Shopify Point of Sale.'
These are available on both iOS and Android, and have been well received by users of both platforms (the main 'Shopify' app scores 4+ out of 5 on both the Apple and Google Play app stores; the 'Shopify POS' app scores 4.3 and 3.7 on these respectively).
The 'Shopify' app lets you view and fulfil orders; add / edit products; view reports and communicate with your team members via an order 'timeline'.
The 'Point of Sale' app, as the name suggests, lets you use Shopify's POS system — you can use it to take card payments in person, track inventory, text receipts to customers and so on.
In addition to the store management apps, there's an app called called 'Ping' available, which makes it easier to answer queries or share your product details with customers when chatting with them over Facebook Messenger, Apple Business Chat, Heydey and Shopify Chat (Shopify's own chat service).
There are some other apps available too, which include a deliveries app (to aid drivers delivering your products), a logo-making app and a photo editing app.
Of all the above apps, the main 'Shopify' app is going to be the most use to the vast majority of merchants.
---
Shopify customer support
Shopify's customer support is comprehensive — you can contact the company 24/7 by email, live chat or phone. To access phone support you'll need to request a callback.
This is significantly better than the support options offered by some competitors — for example, key competitor Squarespace doesn't provide phone support at all.
There are a couple of issues worth pointing out though.
First, having used Shopify support in the past, I've found that if your enquiry is of a particularly technical nature — i.e., if you want to code something and need help — then you may not always get the answers you're looking for from the standard support service.
You're sometimes better off posting a query in a forum and hoping a developer gets back to you on it.
This could be improved a bit, I feet — it it would be nice if, for relevant queries, the company offered a more direct way to contact their developers directly for technical advice.
And finally, in order to access support details, you're required to search help pages for a solution to your problem first.
This will annoy some, but it's increasingly standard practice for support desks for web applications, and it's not implemented as badly as some other e-commerce platforms!
---
GDPR compliance
I am not a lawyer, so please note that the below observations should not be interpreted as legal advice, but I'm going to do my best to spell out some of the key GDPR issues facing Shopify users below.
In the light of the EU's new GDPR laws, there are many legal steps that website owners now need to take to ensure that they are adequately protecting EU customers' and visitors' privacy.
Shopify meets most of these requirements adequately but falls down a bit when it comes to cookie consent. To ensure GDPR compliance, you need to display a cookie banner to your visitors which:
allows them to choose which cookies they want to run BEFORE those cookies are run (i.e., to give 'prior consent')

logs their consent to run cookies

allows them to revoke consent at a later stage.
So for example, if you use a Facebook Ads or Google Analytics cookie on your store, you will be breaking GDPR laws unless you have a banner in place which does all of the above.
Now, out of the box, there is not a way to deal with the cookie consent issue in Shopify.
However, there are quite a few apps in the Shopify app store which claim to deal with this problem and provide this functionality (note that some seem considerably better than others however).
Alternatively, you can use scripts provided by services such as Cookie Pro to add a GDPR-compliant banner to your website.
I would prefer, however, if adequate cookie banner functionality was provided by the platform without the users having to recourse to third-party software. It feels like it should be core functionality.
---
Shopify review conclusion
Overall, Shopify is one of the best hosted solutions for those wishing to create an online store – and arguably the best for anyone who wants to use one product to sell online AND in a physical location. It's also particularly good for users who are interested in dropshipping.
The product is competitively priced — particularly when you consider that abandoned cart saver functionality, a feature which many other platforms charge a premium for on all plans. And its 'Lite' plan represents great value for anyone needing to sell products on an existing site.
It's also easy to use, integrates well with a huge range of other apps, and its templates are attractive.
It has a very big user base — 1,000,000 users — which also inspires confidence.
There are some disadvantages of using Shopify to be aware of too, however.
First, there's the transaction fees for those using a third-party payment gateway (some of its competitors don't charge any transaction fees at all, regardless of payment gateway used).
Second, its limit of three options per product isn't ideal.
Third, its multi-currency selling features could be a little bit better.
And finally, there's the fact that in quite a few instances, to get the functionality you need, you may have to install a paid-for app.
A more complete summary of Shopify pros and cons follows below, but of course the only way to find out if this solution is for you is to test it out fully yourself – a free trial is available here.
Or, if you need help designing a Shopify store, do get in touch: depending on the project, we can either build your site or recommend one of our trusted partners to assist you.
Finally, if you've tried the platform before do feel free to leave your thoughts in the comments section below!
---
Shopify pros and cons
I hope you've enjoyed reading this Shopify review and have found it useful. To sum up, these are the main pros and cons that you can expect to encounter if using this e-commerce solution:
Pros of Shopify
It's easy to use.

The templates are attractive and fully responsive (mobile friendly).

Abandoned cart saving functionality is available on all plans, even the cheapest $9 'Lite' plan.

It's a great option for anyone interested in dropshipping.

US, Canadian and EU tax rates are automatically calculated and applied.

Multi-currency selling is possible, although you'll probably need to rely on an app to implement this properly.

You can create versions of your site in different languages (but note that some limitations in functionality apply).

Depending on your country, you can avail of quite generous shipping discounts if you use the built in 'Shopify Shipping' service to deliver your products.

The Lite Plan's 'Buy Button' allows you to use Shopify to sell products easily on other websites.

It comes with a built in email marketing tool which lets you host a list of up to 2,500 subscribers for free.

The point-of-sale options are comprehensive.

It handles the creation and application of product categories really well.

You can extend functionality easily thanks to a huge range of third-party apps (although note that you will have to pay to use many of them).

A built-in blog is provided.

You can create AMP versions of product pages (albeit with the help / additional cost of a third-party app).

Both iOS and Android apps are provided to enable you to manage your store on the go.

There are no transaction fees if you are happy to use the built in payment processing system, Shopify Payments.

You can try it for free before committing to it.
Cons of Shopify
Whilst you can create 100 variants of a product, these can only involve up to 3 product options.

Key functionality which you might expect to be provided out of the box often requires installation of an app.

Adding custom fields such as text boxes or file upload options, whilst doable, is unnecessarily complicated (or involves purchasing an app).

Professional reporting functionality is only provided on more expensive plans.

The built in payment processor, Shopify Payments, only allows you to sell from certain countries.

You can't avoid transaction fees if you use a third-party payment gateway.

Product images have to be uploaded with the same aspect ratio to display properly.

The abandoned cart saver only allows you to send one automated follow-up email.

When using a dropshipping app, it's hard to be confident that the goods you're selling are ethically produced.

Getting your site to be GDPR compliant where cookies are concerned will involve use of a third party cookie banner app.

Although workarounds exist to make Shopify and Mailchimp work together, there is no longer an official Shopify-Mailchimp integration available.

If you're not using 'Shopify Shipping' to provide real-time carrier quotes to your customers, or live in a country where it's not available, this functionality can work out quite expensive (you'll need to be on a $299+ plan to avail of real-time carrier quotes from other suppliers).

The email marketing functionality, whilst nice to have, is currently pretty basic.
Got any questions? Leave a comment!
After reading our Shopify review, have any queries about the platform, or whether it's the right option for you? Do leave a comment on our below. We read all comments and do our best to answer all questions.
---
Alternatives to Shopify
No Shopify review would be complete without a look at the alternatives!
Of the e-commerce solutions I've tested to date, BigCommerce is probably the strongest alternative to Shopify.
It's similarly priced, easy-to-use and its feature set is broadly comparable with Shopify's. It also provides a free trial. For more information on the product, do check out our full BigCommerce review and our BigCommerce vs Shopify comparison.
If you already run a website, you might like to investigate Ecwid, which allows you to add an online store to an existing site (Ecwid offers similar functionality to Shopify's 'Buy Button', but with more advanced features). You can read our full Ecwid review here.
If you need more flexibility with regard to how you lay out content, or have a particular need to showcase images, videos or blog posts, you might also like to check out Squarespace, which has a really lovely approach to managing content.
You'll need to bear in mind that Squarespace's e-commerce functionality is a bit more limited than Shopify's, however — particularly where multi-currency selling and point-of-sale e-commerce are concerned. Check out our Squarespace review and our Shopify vs Squarespace comparison for full details.
If you are on a budget, then Wix is worth a look, as it offers e-commerce functionality at a cheaper price point than quite a few of its competitors. However, as with Squarespace, Wix is a more 'general purpose' website builder and consequently is a bit more limited in terms of e-commerce functionality than some solutions. Check out our latest Wix review, or our Wix vs Shopify, Squarespace vs Wix and Wix vs WorPress comparisons for more details on this platform.
And finally, there's always self-hosted WordPress. This is a different beast to Shopify in that it is not a 'hosted' solution: you will have to build your own site and host it yourself. However, there are LOTS of ways to sell products using it.
Read our Shopify vs WordPress comparison for more details, or contact us to discuss our WordPress web design services.
---
Shopify review FAQs
What's the best Shopify plan for me?
It really depends on your selling requirements, but for me the 'sweet spot' plan is probably the mid-tier 'Shopify' plan — which you can try out for free here —  as it gives you the bulk of functionality you need for an online store, including professional reports, control over multicurrency payments and store translation features. Check out our Shopify fees guide for more details on how to choose a Shopify plan that's right for you.
Does Shopify charge transaction fees?
You can avoid transaction fees by using Shopify's built-in payment gateway, Shopify Payments. However, if you use a third-party payment gateway, Shopify charges you a transaction fee of between 0.5% and 2.0%, depending on your plan.
Can I sell video content on Shopify?
Yes — you can use Shopify's free 'Digital Downloads' app to do this, but you might find that a dedicated third-party app like Sky Pilot works better (particularly if your customers need to stream your content).
Is it easy to upgrade or downgrade my Shopify plan?
Yes, you can do this at any time. The price of your previous plan is prorated and applied against the cost of your new subscription.
---